Psihoterapija UŽIVO: Kako savladati Anksioznost
22/06/2018 @ 18:00

-

20:00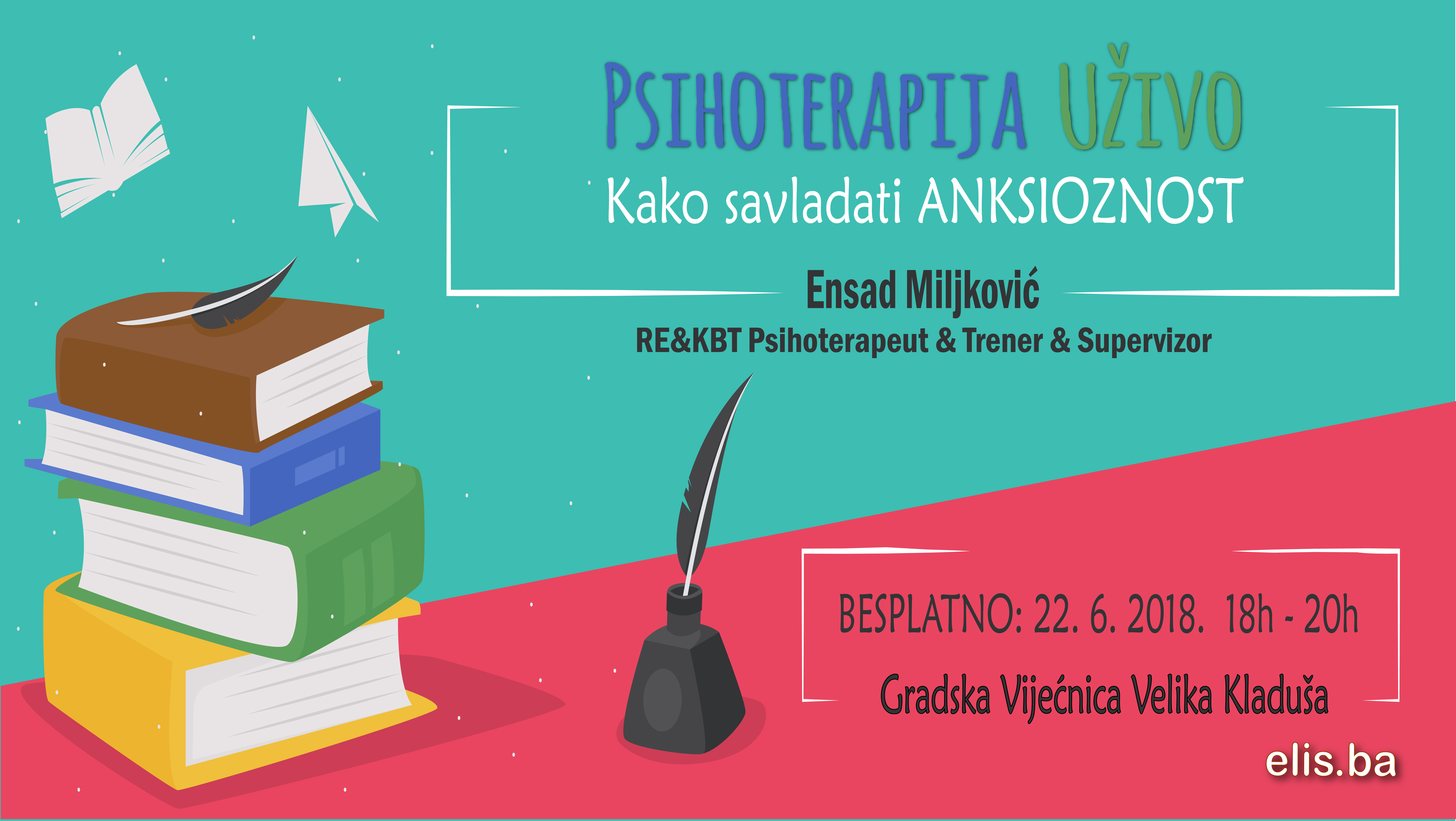 Šta je to anksioznost? Da li je istina da je anksioznost najčešći emocionalni problem? Da li je istina da gotovo petina populacije tokom života će imati neki oblik izražene anksioznosti? Kada briga, strah i/ili stres postaje anksioznost i kako se održava? Koji su tipovi anksioznosti? Kako izgleda jedna terapijska seansa na temu anksioznosti? Šta su to vježbe pune svjesnosti i kako mi mogu pomoći sa anksioznošću i općenito u životu? Kako savladati anksioznost?
Na ova i mnoga druga pitanja saznajte odgovor tokom dvosatnog druženja. Nakon kratkog predavanja na temu o anksioznosti, prikazaćemo jedan segmenat Racionalno Emotivne Kognitivno Bihejvioralne Terapije, sa dva dobrovoljca iz publike. Bilo bi poželjno da  problem bude usko vezan za neki vid anksioznosti. Kroz demonstraciju uživo ostala publika može primijeniti demonstrirane vještine i informacije na svoje lične probleme. Nakon demonstracije, sa publikom će biti kratka analiza prethodnog rada. Publika će dodatno imati priliku da nauči šta su to vježbe pune svjesnosti te kako ih primijeniti u svakodnevnom životu. Tokom večeri kroz rad pokazaćemo određene korisne psihološke vježbe i tehnike koje možete primjenjivati u svakodnevnom životu u borbi sa svojim emocionalnim problemima. Družite se Petak večer uživo sa Psihoterapeutom i naučite nešto novo iz svijeta psihologije. Vidimo se uskoro.
PROGRAM
Kratko predavanje o anksioznosti;
Demonstracija terapije sa prvim dobrovoljcem iz publike;
Vježbe pune svjesnosti (Mindfulness) sa publikom;
Demonstracija terapije sa drugim dobrovoljcem iz publike;
Pitanja iz publike.